Student Supply List for Still Life Appliqué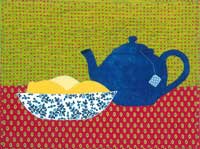 Sewing machine with zigzag stitch, in good working order, and an open-toed embroidery foot. (Bring your manual, and don't forget your foot pedal and power cord!)

Top thread: I use 60-wt. cotton thread to match my appliqué pieces, but colors can be hard to find, so you may use 50-wt. cotton thread, which will show a bit more. If you can't find 60-wt. cotton thread in the colors you want but would still like more subtle stitching, you may use invisible thread.

Bobbin thread: 60-wt. cotton thread in light gray or beige.

Black thread for stitching around teapot spout.

Needles: With 60-wt. cotton or invisible thread in the top, use a size 60, 65, or 70 sharp or denim needle (note that size 60 needles can be hard to find). If you are using 50-wt. cotton in the top, use a size 80 sharp or denim needle.

White thread and hand sewing needle for basting.

Rotary mat, cutter and ruler.

Basic sewing supplies (pins, seam ripper, etc.).

Scissors: Paper scissors; large and small fabric scissors.

Marking pencil(s) that you can see against teapot and lemon fabrics.

Cuticle stick to "unstick" the freezer paper edges from the fabric after it's been ironed; "That Purple Thang" also works well for this.

Permanent marking pens, fat and thin (I use Sharpie Fine Point and Ultra Fine Point).

Fusible web: 1/3 yd. (I use Wonder-Under).

Pencil with an eraser.

Freezer paper (18"x 18").

One large sheet of tracing paper, approx. 19"x 24" (the see-through kind, not dressmaker's tracing paper).

Fabric:

This simple still life can be done in just about any style you like, whether it be brights, soft colors, French, Japanese, black and white, or batiks. One tip: If you get stuck after choosing four of the five main fabrics, as I sometimes do, try filling the gap with a hand-dyed fabric; it often provides the needed "spark."

One fat quarter each for the background and foreground. The background should be lighter than the foreground. If you are using prints, it's a good idea to vary the scale, using the larger scale print for the foreground.

Teapot: Fat quarter of a fabric that will show up against both the foreground and background.

Bowl: Large scrap, ¼ yd. or fat quarter of a fabric that contrasts with the foreground, teapot and lemons. Since we will do raw-edge appliqué for the bowl, firmly woven fabric is best. I try to vary the scale between the bowl and the teapot fabric, though it doesn't seem to matter which scale is larger.

Scraps of fabric for teabag, teapot spout (black) and lemons (yellow, solid or mottled; use a lighter yellow for the lemon in the middle).
Optional (bring only if you already own):

Clover mini iron.

Teflon pressing sheet for use with fusible web.

Small appliqué scissors with one blunt blade.

Recommended book:

Picture This! Appliqué Pictorial Quilts—From Photo to Fabric, by Marcia Stein
C&T Publishing, September 2010