Student Supply List for Picture This! (One-Day Class)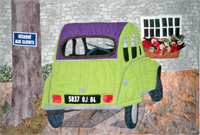 Photos:

Several photos you've taken yourself, to avoid copyright issues.

8-1/2 " x 11" color photocopy or inkjet print of each photo (size is approximate; 8" x 10" is fine).

8-1/2 " x 11" B&W photocopy or inkjet print of each photo (size is approximate; 8" x 10" is fine).

Photos with high contrast and a single major subject will be easier to work with. It's best to keep it simple for your first effort. Good subjects are people from the back (we won't be working with facial features), travel photos, buildings, cars, pets, landscapes, and flowers (flowers should have multiple shades of color to avoid the "big blob" look). You may want to look at the student gallery for more ideas.

During class, you will trace your photo onto an acetate sheet (supplied by the teacher at no charge). If you decide to enlarge the acetate drawing, you may do so at a nearby copy center (students usually do this during the lunch break). To save time, you may wish to bring your own tracing or line drawing already enlarged to the desired size on plain white or gridded paper of your choice. In a one-day class, it's probably best to keep the size no larger than 18-24" on a side.

Note: If you do not plan to enlarge your photo, make sure the important elements are large enough to work with comfortably (about 5-7" high), though you can always fuse very small pieces.

Fabric:

Fabric scraps to practice machine appliqué techniques.

Small amounts of fabrics to represent the various elements in your photo. Feel free to change colors and textures. Small-scale architectural and nature-themed fabrics (bricks, stones, skies, bark) can work well. Hand-dyed or painted fabrics and batiks are good for skies (avoid cartoonish fabrics with evenly spaced white clouds). Use several shades of green for foliage.

Optional: If you think you might want to use muslin as a base for your appliqué (especially if you plan to fuse), bring 1-2 fat quarters for a small piece, or 1 yard if you are bringing an enlarged design.

Thread:

50-wt. cotton thread to match appliqué pieces.

60-wt. cotton thread to match appliqué pieces (if you can't find it, just bring the 50-wt. thread).

Invisible thread (clear for light colors, smoke for dark colors).

Sewing Supplies:

Sewing machine with zigzag stitch, in good working order, an open-toed embroidery foot, and a darning foot if you have one. (Bring your manual, and don't forget your foot pedal and power cord!) Note: In a one-day class, students often do not reach the sewing stage; you know best how quickly you work and whether or not it would be worthwhile to bring your machine, keep it in the car, or leave it at home.

Needles: For 50-wt. cotton thread, size 80 sharp or denim needle. For 60-wt. cotton or invisible thread: size 60, 65, or 70 sharp or denim needle.

White thread and hand sewing needle for basting.

Rotary mat, cutter, and ruler.

Basic sewing supplies (pins, seam ripper, small and large scissors to cut paper and fabric).

Cuticle stick or "That Purple Thang."

Pencil and eraser.

Permanent marking pens, fat and thin (I use Sharpie Fine Point and Ultra Fine Point).

Fusible web: 1/2 - 1 yd. Wonder-Under or other favorite brand if you'd like to fuse.

Freezer paper.

Glue stick.

Masking tape.

Light box if you have one (be prepared to share with other students).

Teacher will supply acetate sheets at no charge.


Optional (bring only if you already own):

Clover mini iron.

Teflon pressing sheet to use with fusible web.

Recommended book:

Picture This! Appliqué Pictorial Quilts—From Photo to Fabric, by Marcia Stein
C&T Publishing, September 2010